I was at a opening lines workshop recently where aspiring authors read the first page of their pieces to a panel of literary agents. A young women dressed in black stood up and began reading a story about a girl in Ukraine. I was excited to hear about life there today – I feel Ukrainian stories are underrepresented in the literary landscape. But then her character (I assume her as most people were reading memoirs) started complaining about how the Ukrainian language had taken over her hometown, and how she just wanted her Russian back. My mouth dropped open – what kind of UKRAINIAN was this? Not anyone I know. An interloper – a fraud.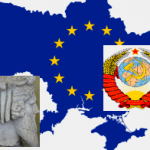 Her Ukraine – the face of Janus facing the East – harks back to Stalin's Russification and division of Ukraine. The split behooved him so he could maintain control of Ukraine's natural assets – not just its breadbasket but also it coal mines in the East which fed an enormous steel-making complex that propelled the Soviet Union's industrialization.
Stalin's hammer continues on in "Putin's Eurasian dream" as my good friend and scholar, Nick Gvosdev, posits in the recent book he co-authored, Russian Foreign Policy: Interests, Vectors, and Sectors.  Ukraine is the key to Putin's plan and his close ties to Ukraine's current President Yanukovych make Ukraine's turn to the past, to it "Soviet-ness" almost inevitable. Gvosdev sites other inevitabilities in his piece in the National Interest as well, particularly Yanukovych's interest in keeping rival and now incarcerated, Yulia Tymochenko, out of the limelight. Remind you of the Gulag anyone? I've been reading Orwell (Animal Farm, Homage to Catalonia) and Ginzburg (Journey into the Whirlwind) and the persistence of this political paranoia today is downright insane.
Six years ago, I wrote a piece for the National Interest that theorized Tymoshenko had Nine Lives and would come back to lead Ukraine into a new era. That was still a time of hope where Ukraine's other face – the face of Janus facing the West – was stronger. Where wealth creation was happening in an environment of political experimentation.
The problem today is that even the oligarch's who are pro-Western are being squeezed. Petro Poroshenko, Ukraine's billionaire chocolate king who holds an independent seat in parliament, wants to grow into EU markets. The reality is he makes money in Russia – that is til the recent ban by Russia's consumer agency. Many of Ukraine's billionaires rely on Russia's markets. With Russia closing its border and driving up tariffs, the cost of business is holding back Ukraine's growth. To boot, super-billionaire, Rinat Akhmetov, Ukraine's richest man, is from Eastern Ukraine – that bastion of Russian-ness from whence the reader who wanted the Russian language back came. Akhmetov controls not only steel plants and coal mines, but banks, media outlets and one of Ukraine's biggest stadiums – the UEFA Euro 2012 games were played in his $400 million Donbass Arena. These are the ties that bind Ukraine to Russia.
The hope is that Ukraine's spirit will prevail – and that spirit is fervently manifest in Ukrainian language and culture. The protests are growing not only in Ukraine as today's NYT article describes, but all around the world in the Ukrainian diaspora. My cousin is helping organize one in Berlin (for more info on Euromaidan in Deutschland), my friend Halyna has marched here and is organizing information from around the world including this great video. (http://www.youtube.com/watch?v=BPtcQvodiFE)
If not, as my friend Nick says, if Yanukovych manages to maintain his manic grip, Ukraine will have to be split in two. Its Janus cannot keeping looking backwards and forwards.