I am Gualti, a young artist originally from Padua. I moved to Venice in September of 1998 to inaugurate my atelier-galleria following a long, tortuous, and sensitive evolution. I am self-taught, a "material experimenter", an inventor of decorative forms for the body, who abandoned myself to the creativity that passionately consumes my entire existence. Since childhood, my extreme sensitivity has left me in awe when faced with the grandeur of Nature.  The places of my adolescence strongly influenced me:  I admired small rivulets of water tripping along in myriad kaleidoscopic reflections, observed the sinuous dance of silvery algae gracefully suspended in that mysterious crystalline surface while their harmonious movement would work an almost hypnotic spell. I examined minutely the delicate buds of plants, scrutinized every detail of tiny teeming creatures and their interaction with the physical environment around them. The world behind the superficiality of reality enchants me…I am particularly attracted to everything that is beneath the surface: small fossils, twigs, stones, and above all roots…tangled, woody, branched, fibrous, tubers, sometimes aerial or creeping…I am fascinated by small anthropomorphic apparatus and their organic forms…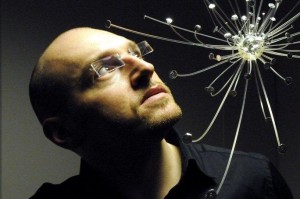 In each of my jewels I seek "the sense of lightness", using particularly unusual materials, assembled and fused with an extraordinary vision, always experimenting in a new, magical, and unique idiom…
They are jewels and ornaments in a rainbow spectrum, apparently fragile or difficult to wear…but in reality as supple and lightweight as feathers. They are extensions of life…to be savoured every instant of every day, and can be touched and worn casually, but certainly without going unobserved…Glassy hearts pulsating with light like watery mirrors, from which transparent filaments and iridescent tips reach out – offshoots of light.Bracelets…rings…earrings…collars…headpieces…the entire body is willingly captured, dressed, and transformed by these organic sculpture-jewels that I define as extensions of the body
.
They are indefinable constructions, timeless in alternating lights, shadows, colours, volumes, asymmetries, and movement…My universe continues with the creation of my stoles… : silks…organza… taffetas,…and anything else that can be wrapped around the body like a cocoon…Original plissé of iridescent fabrics crumples surprisingly, enhanced by voluminous sinuous hems that form spirals evoking diaphanous creatures of unexplored abysses….Every creation is unique – absolutely original.

I transform my deepest emotions, my dreams, fantasies, and desires into ornaments for the body and soul…a sort of perpetual voyage in time and space, where there is no beginning and no end, but rather a continual evolution that seeks and affirms its "sensations".
At the moment, I am involved in my first theatrical project. I designed two costumes
and jewels to complement them for the glorious singer Romina Salvadori, who is performing in the latest work "4″ of the RBR DANCE COMPANY directed by Cristiano Fagioli in Italy, now in tour…a mystical and surreal atmosphere…Romina Salvadori with RBR Dance Company
This first, exciting foray into the world of the theater has inspired me to seek further opportunities in film , music videos, and theater, just the next step in my creative process.
Gaulti creates jewelry and art, his shop is located in Venice, Italy.