The DJ was pumping summer specials ("Call me Maybe" anyone?), the drinks were free flowing and the bride and the groom looked spectacular, but yesterday at my table all were glued to my cousin's phone watching the final between Spain and Italy. There were grumbles about how Poland should have done better in its division, but overall awe and joy at Poland and Ukraine getting their moment in the sun after years behind the Iron Curtain.
Though I am not a soccer devotee, it is hard to not be impressed by the spectacle of Eurocup 2012. And even more impressed at how far Poland and Ukraine have come.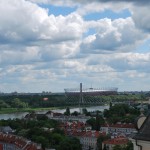 I first saw the new Warsaw stadium last year on my return to Poland. Pretty impressive and now how everyone sees Warsaw in their mind's eye after stupendous event coverage and smashing soccer tourism.
Last year I came back to Warsaw for the first time since 1985. Back then, Poland was just shaking off the ill will of martial law and suffering from a crumbling planned economy. I remember waiting to buy a refrigerator for my great-grandmother who lived in a small village outside Cracow and still did not own one. My family had tried sending her money to buy one, but each time there was none to be had. In the winter, having no icebox was no problem – milk and butter stayed fresh out in the cold; in the summer, these were kept in the well or in the cellar.
At the time, I was 12 and didn't really understand, or appreciate, why everything was so Little House on the Prairie. I knew we wanted to make my great-grandmother's life a bit easier. So one day, we got a tip from someone about a truck arriving at an appliance store. Rumor had it that the drivers would be selling the refrigerators straight off the back of the truck before they even had a chance to hit the shelves. We weren't the only ones getting that same tip. There was queuing, pushing, haggling — dozens of frenzied voices and bodies ready to carry these refrigerators on square backs if need be.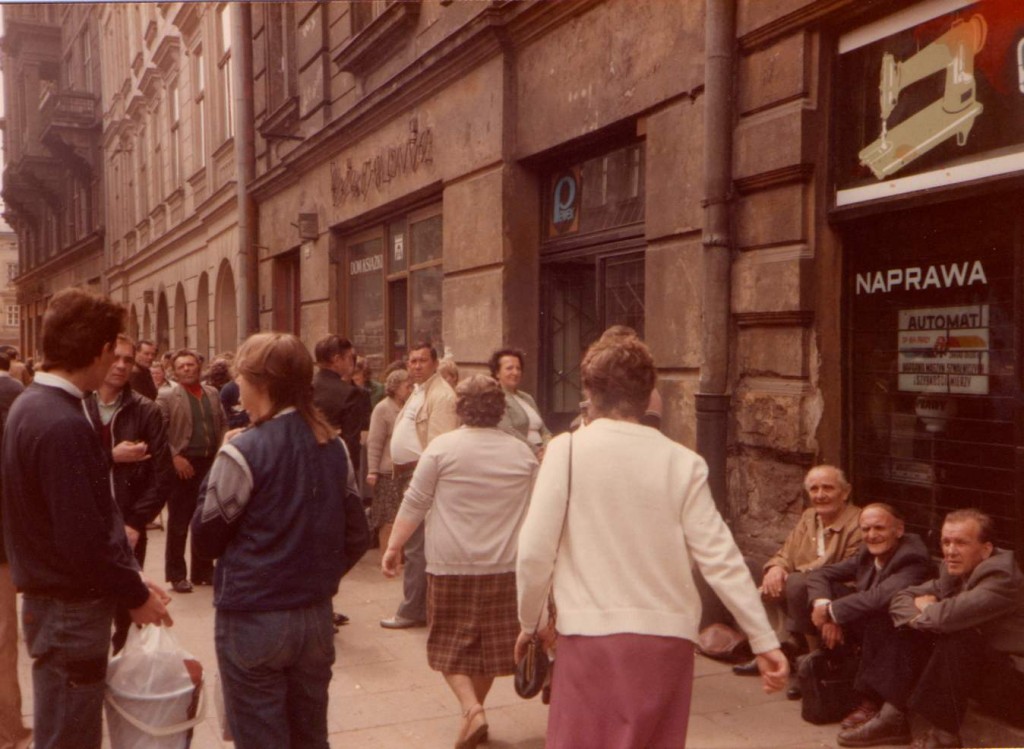 It was the same everywhere. Enormous lines or empty shelves. We went into a restaurant one time, got a menu only to be told they were out of everything. Hours later, somehow a chicken was found and we had our dinner.
Now faded photographs of that time before remain (see my 1985 vintage photo). Today Warsaw is full of four and five star hotels that are at your service 24/7 (including going back to the airport to pick up a forgotten stroller!) and the restaurants are packed, from hip and trendy (U Kucharzy on ul. Ossolinskich, run by the Gessler family which have a restaurant empire a la Batali, www.gessler.pl) to excellent pubs (BrowArmia on ul. Krolewska) and even a superb wine bar (Mielzynski on ul. Burakowska).
Warsaw is also safe and child friendly! The Chopin Museum (ul. Okólnik) is an excellent place to spend an afternoon with a special children's room full of musical games to a room where you can sit quietly and listen to his music — actually my favorite was reading George Sand's letters to Chopin! Another fun place: Teatr Malego Widza u(l. Jezuicka 4 ) in Old Town which has shows for little ones.
Indeed, the arts are thriving in Warsaw, especially around the area where the once imposing Palace of Science and Culture
(built between 1952 and 1955 as Joseph Stalin's "gift" to Warsaw) doesn't seem so imposing anymore. It's now more on an arts complex, surrounded by half a dozen theaters. I also went to my first theater piece this year in Warsaw, Ingmar Bergman's Wiarolomni (aka "Faithless").

The acting was powerful, the neighborhood very Williamsburg. (check out the company site: (http://www.trwarszawa.pl/wydarzenia/wiarolomni). I felt at home. Then I met the cousin of my best friend who is starting a gallery specializing in antique photographs. He moved from Paris a year ago, enticed by the artistic opportunity in Poland.
And much more! One of Warsaw's mall offerings, Arkadia (al. Jana Pawla), is the antithesis of my 1985 experience. Shelves are stuffed, shoppers overflowing. There are imported foods from around the world, designers galore, an English language bookstore. You can even get your Starbuck's fix (on Krakowskie Przedmieście) where I love sitting so I can to feel the youthful vibe of the Warsaw University students passing by.
Warsaw 2012. I may have missed the soccer, but I think the city is amazing!
Related articles