Author Megha Bahree travels extensively through India reporting on the country's transformation from a traditional agrarian economy to an industrial one. She is currently a freelance reporter, and was formerly on staff at the Wall Street Journal and Forbes.
New Delhi: 6 am and it's already crossed 90F, the sun's golden light getting hotter by the minute.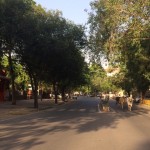 I head out for my morning run to a trail a couple of miles from my place. To get there I run past two temples. The first one, with a small brick-red arch that's partly draped by the leaves of a banana tree, is often a wedding venue for some southern Indian communities which typically tie the knot at that hour. I'll often wave to women in silk saris with jasmine flowers in their hair.
A few meters down the street is the other temple. Every morning a man drives on his motorcycle to this temple, the gas tank and the front of his motorcycle hidden under several clear plastic bags of orange marigolds, strung together in garlands, to be sold to worshippers.
Across the street from this temple a skinny, old, self-proclaimed god man sits on the pavement. His bright red cheap satin tunic and saffron colored cotton sarong (lungi) clash with his matted shoulder-length scraggly grey mop and parched brown skin. He peers through thick round spectacles in a brown frame at sheafs of paper, a holy book perhaps, as he loudly sings hymns. Every time someone enters the temple, his quavering voice gets louder.
There's a village of sorts near here and the villagers send their cows out every morning—for a walk or to forage for food or who knows what else. As they walk down the road in groups of twos and threes, at least one or two of the cows will go up to the skinny sage, nuzzle his face, take some of the food he offers.
On most mornings I find myself threading my way between the cows even as I dodge a wine colored Rolls Royce, a couple of BMWs and Mercs that are on their way to drop the owners kids to school and a sunshine yellow Tata Nano that zips down the street as if it's a Lamborghini, or trying to be one.
It can get a bit crowded around here.